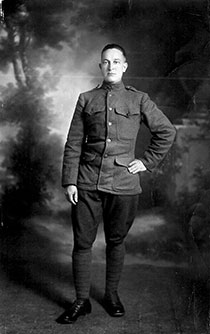 Anderson, Roland Homer
1592049Pontotoc, Mississippi
Rank

Private

Organization

Co. A, Central Records Office (C.R.O.) Battalion (BN.) American Service Corps (ASC)

Description

Short, Stout, Auburn Hair, Blue Eyes

Born

February 17, 1891

Died

February 13, 1919
US
Introduction
Roland Homer Anderson, a 26-year old hotel clerk in New Albany, MS 1, enlisted in the United States Army, September 19, 1917. Homer survived the war while stationed in France, but before being shipped home, died of influenza February 13, 1919.
In 1918 children would skip rope to the rhyme, "I had a little bird, its name was Enza. I opened the window, and in-flu-enza." The influenza of 1918-1919, known as "Spanish Flu or "La Grippe" infected 28% of all Americans and was most deadly for people ages 20 to 40.2 Most of its victims were healthy young adults, in contrast to most influenza outbreaks which predominantly affect juvenile, elderly, or otherwise weakened patients. 3
Among the conclusions of research is that the virus caused an overreaction of the body's immune system, which explains its unusually severe nature and the unusual age profile of its victims. A person with a stronger immune system would potentially have a stronger overreaction.
An estimated 675,000 Americans died of influenza during the pandemic, ten times as many as in the world war.
The effect of the influenza epidemic was so severe that the average life span in the United States was depressed by 10 years. Half of the U.S. soldiers who died in Europe fell to the influenza virus and not to the enemy. 4
While World War 1 did not cause the flu, the close troop quarters and massive troop movements hastened the pandemic. Some researchers speculate that the soldiers' immune systems were weakened by the stresses of combat and chemical attacks, increasing their susceptibility to the disease. A large factor of worldwide flu occurrence was increased travel. Modern transportation systems made it easier for soldier, sailor, and civilian travel to spread the disease quickly to communities, worldwide. 5
Enlistment
In 1917, the citizens of Pontotoc, Mississippi read THE SENTINEL for their news.
May 24, 1917

THE PRESIDENT'S PROCLAMATION

On the 18th, day of May 1917, the President of the United States issued his War Proclamation requiring all the male population of the United States, between the ages of 21 and 30 years, inclusive of these years, to REGISTER.

Provision has been made for all MALES between these ages to assemble at their voting precincts between the hours of 7 a.m. and 9 p.m. on the 5th day of June 1917, and here to register as provided by law.

It matters not whether one thinks he is disqualified from any cause or not, he MUST REGISTER on that day. Don't forget the date is JUNE 5th, 1917.

Registrars have been appointed for each voting precinct and will be there on date set with the proper blanks for registering you, and ALL of those ages MUST be registered on that date as the law fixes grave penalties for any one failing or refusing to register.

Don't forget that this registration means whites and blacks alike and none are exempt. If there is any doubt as to this matter it will be best for you to go to your voting precinct on the 5th day of June and investigate and the registrars will explain the law to you.
The registration of millions of men and women provided influenza an efficient way to spread. Very little response or acknowledgement to the epidemic was given in the military camps. The war enabled the virus to spread and the soldiers on all sides brought it back home at war's end. A resurgence of the flu accompanied celebrations of victory in November 11, 1918. 6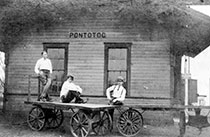 September 20, 1917

Fifty-Three Men Enlist For Service

On Wednesday, September 19, 1917, Roland Homer Anderson left Pontotoc, Mississippi with fifty-two other young men from the County, the second contingent of drafted men to go to war. Marching in a body to the depot, they were met by a local contingent of speakers led by Dr. C.D. Mitchell, chairman of the Red Cross Society. The final roll was called as the young men boarded the train. With a brief stop in New Albany, the train took four and one-half hours to get to Memphis. From there Little Rock was a seven-hour train ride via Rock Island Railroad.7
Homer's letter from Camp Pike, Arkansas, was front-page news in THE SENTINEL.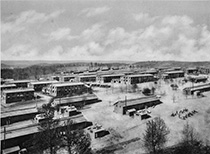 October 18, 1917

Corporal Anderson Writes To Home Folks

I guess you think I'm not going to write any more or am sick or something, but it is neither one. We have been all torn up this week, did not know what to do. I suppose I will leave Camp Pike pretty soon. At least that is what they tell us. Think they are going to send all the Mississippi machine gun boys to the National Guards, but do not know what place we will go. Some say to a camp in South Carolina, some say to Jackson, Miss. We don't know but we are going to some place. All of the boys seem anxious to move on — as for myself, it doesn't make much difference.

We have been busy all this week getting suits for the new boys and the old boys getting our overcoats. We sure did get some dandy overcoats. We are going to get paid off today and some think we will leave tomorrow.

Went to Little Rock yesterday. Charlie Grisham and myself. We took the town in. Its some town too.

I have bought me a $50 Liberty Bond; pay $5.00 per month until paid for. Several of the other boys have bought them a bond; all of us that bought bonds will get an honor button.

We have two kinds of privates, first class private and just a regular private. I understand I am classed as first class private and I will get $3.00 a month more than a regular. I am also acting as Corporal now, but have not been approved yet.

You can dispose of my clothes the best you can, as I may not want them when I get back home. I will want new ones any way. Do not write any more until you hear from me. Give my best wishes to all my friends.

HOMER ANDERSON 8
Construction of Camp Pike began on July 5, 1917 and was turned over to the government on September 1, 1917. Organization of the 87th Division, composed of drafted men from Alabama, Arkansas, Louisiana and Mississippi, began. Camp Pike was designated as an infantry replacement and training camp after the 87th left and until the fall of 1919. 9
The initial draft of selective service men reported to camp September 5-10. An additional 15,700, including Homer, arrived September 19-24.10 Approximately 13,094 men were received from Mississippi.11
After providing detachments for replacements abroad, the division was reorganized with recruits from other camps. 12
Service of Supply
Up to this time, there was no definite source of personnel for the various headquarters, depots, and other activities. Officers, soldiers, and clerks were picked up here and there, detached from their units and assigned to special duty.
For combat units and for the old peace-time administrative headquarters, definite personnel were prescribed in organization tables, but General Headquarters had for some time been trying to make up organization tables for the various headquarters. Homer became attached to the Central Records Office (C.R.O.).
Central Records Office (C.R.O.)
Day and night, several thousand men of the United States Army, including Homer, aided by 500 British girls, secured and compiled the information that led to the dispatching of the telegram or to the making of the Casualty Lists that anxious mothers in the States were waiting for. The C.R.O. also told how every man of the American Expeditionary Forces (A.E.F.) was traced by means of a huge system of records.
This system was the work of the C.R.O., a separate section of General Headquarters, under the Service of Supply (S.O.S.). Originally a part of the Statistical Division of the Army, they were stationed at Chaumont.
The C.R.O. divorced from the Statistical Section of General Headquarters in May 1918 when the amount of work began increasing beyond the scope of that division. The outfit left Chaumont on May 21, 1918, for St. Pierre des Corps, a suburb of Tours. Assistance was obtained from the British Government in the form of 200 girls, known as the Woman's Auxiliary Army Corps (W.A.A.C.), later becoming Queen Mary's Auxiliary Army Corps (Q.M.A.A.C).
Between September 1, 1918 and September 17, 1918, the C.R.O. was moved to Bourges (Cher), to take over Caserne Carnot, the old camp of the 37th French artillery.
The Central Records Office included the Statistical Section of General Headquarters (G.H.Q.) and the Central Post Office (C.P.O.) of the American Expeditionary Force (A.E.F.). The total under the command of this post included 450 W.A.A.C. workers, 130 W.A.A.C. officers, 202 U.S. officers and 4,050 enlisted men.
In busiest times more than 10,000 enlisted men were employed in Bourges locating lost service records, compiling vital statistics, and keeping records of the names and careers of more than 2,000,000 men of the A.E.F. from the time they left the States until they returned, were discharged in Europe or died. This history was kept on a 5″ x 8″ inch card, known as the Master Card, and was filed by organizations. These cards were filed alphabetically and served for the use not only of the Central Records Office, but also for the re-directory of mail by the Central Post Office. They verified, recorded and reported all casualties to the Adjutant General of the Army, answered all inquires received regarding members of the A.E.F., maintained a Prisoner of War Information Bureau, transmitted service records of soldiers who became separated from their organizations for various reasons, and maintained cards on the classification of all officers and soldiers.
At the end of the war, the records would be shipped to Washington for permanent use of the War Department. 13
The insignia of the C.R.O. is a shield surrounded by an eagle, both enclosed in a diamond of blue. The eagle is gold, and on the shield are silver stars.
Battalion Co. A
Homer belonged to Co. A C.R.O. Battalion commanded by Capt. Leslie Clyde, C.A.C. and Lt John McCloskey, Inf. and Lt. John Fanning, Inf. In all they had 243 men.
When the work of the C.R.O. grew beyond the power of the 500 men assigned to it, Co. D, Headquarters Battalion, G.H.Q., passed into oblivion and was supplanted by the Central Records Office Battalion, Army Service Corps (A.S.C.). This change took place January 1, 1919. Most of the men of the C.R.O. Battalion were engaged in clerical work in the Adjutant General's Department of the A.E.F. Due to the enormous amount of work, the offices were running day and night, with a midnight mess to take care of the men on night duty. 14
Camp Hospital 68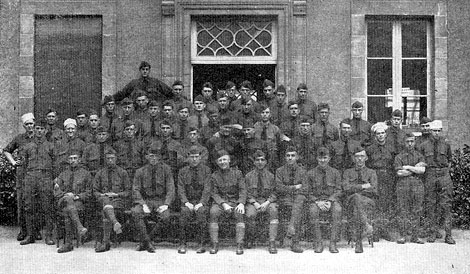 The job of Camp Hospital 68 was somewhat different from other hospitals in that the men that it served were not out in the open like other soldiers, but spent the greater part of their time indoors in crowded offices doing clerical work. The hospital was situated in a quiet court off the central square of the city, in a portion of the College for Young Girls,10 RueLittre.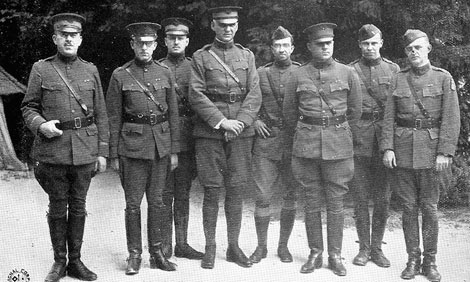 When the annex was opened on February 10, 1918 (3 days before Homer died), 100 available beds, and 150 if necessary, were added to the 200 bed-capacity of the main 18th century building.
To illustrate the competence of the institution, an alarming epidemic of influenza swept through the camps of soldiers and British girls during December, January and February.15 Listed under "turning points" in the Battle of Bourges was February 8-15 – "Influenza Epidemic at Post." 16 Despite the fact that the building was so taxed as to demand suspension of all operations in every available ward, including surgery, the epidemic was overthrown successfully.17
A report of the patients on February 28th shows that there had been three cases of pneumonia that year. One of these three was Homer who died on February 13th. THE CRO, the newspaper of Caserne Carnot, Bourges (Cher) France, reported two days after Homer's death that "the new influenza epidemic is keeping everyone busy and Hospital 68 is in quarantine and no visitors are admitted by order of Adj. L.M.Daniel." 18
Burial in Bourges (Cher) France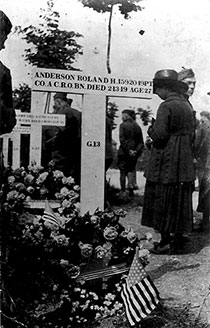 Homer's cause of death was ruled lobar pneumonia, the date of death was February 13, 1919, the place of death was Camp Hospital 68 and the date of burial was February 14, 1919. The grave was marked with a cross and a burial bottle containing name, service number, rank and unit. The grave location blank, reporting on the location of Homer's grave, indicated that an identification tag was buried with the body, and a tag was fastened to the cross. The reporting officer was Chaplain Harry G. Cunningham.19
Homer had a military funeral and was buried in St. Lazare Cemetery, in the center of Bourges, American Sector, Row #1 and Grave 13. St. Lazare Cemetery, Bourges (Cher) France No. 722 (C.R.S. Headquarters Code Number) was a French cemetery with an American section. Other cemeteries were purely American and in some cases soldiers were buried in isolated graves in French cemeteries.
Memorial Day Services of 1919 were held at St. Lazare Cemetery for the 23 enlisted men, one W.A.A.C., and two lieutenants that died serving their post. The Central Records Office, Central Post Office and Camp Hospital 68 began demobilizing from the middle of July through the middle of August. 20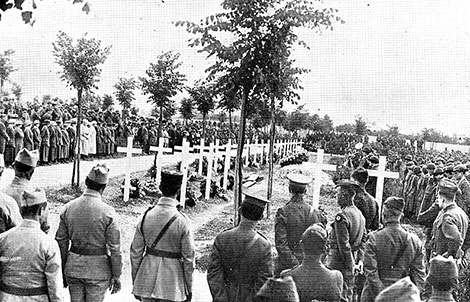 Recently, a friend who traveled through Bourges graciously took the time to meet with the caretaker of the cemetery, Mr. Desroches, and asked that he show her where Homer had been buried. She learned that a French soldier named Strengs Ugene, who died in July 19, 1918, had been re-interred to Grave 13 (Homer's plot) from the Fleury Les Aubrais & Loiret American Cemetery, 100 kilometers from Paris near Orleans.
Memorial Service in Pontotoc
March 6, 1919

Death of a Young Soldier

Pontotoc and its far reaching community was distressed last week upon hearing that Homer Anderson was no more – that he had died in France from pneumonia.

Since mistakes in names are frequently made where such numbers of deaths occur, it was fervently hoped that this was one. Therefore, a cablegram was immediately sent across and for days his parents, Mr. and Mrs. J.P. Anderson, and relatives and friends cherished the hope that Homer might be alive and well.

The second message destroyed this, however, and the most sanguinely inclined are now convinced that the announcement of this death was correct and that Pontotoc county has lost another of her noble young soldiers, one of her bravest, truest and most faithful.21
March 27, 1919

Card of Thanks

Words fail us to express our thanks to our neighbors and kindness to us in this sad hour over the death of our dear boy, Homer, who was reported died in France, on February 13th, 1919 of pneumonia. May God's richest blessings be with you all is our prayer.

Mr. and Mrs. Jim P. Anderson. 22
April 10, 1919

Memorial Services for Rowland Homer Anderson

Memorial Services for Rowland Homer Anderson will be held at 11:00 a.m., April 13, 1919, at the Baptist Church in Pontotoc, Mississippi. J.J. Mayfield, Pastor, invites everyone and requests that Pontotoc County soldiers be present and in uniform. The program includes a voluntary by Mrs. Everette Harris, a scripture reading by the Rev. W.M. Young, remarks by J. Barr Tutor, a memorial address by the Rev. J.J. Mayfield, the placing of a star by Charlie Grisham and a recitation by Miss Mattie Lee Ray. The music will include Unclouded Day, Jesus Lover of My Soul and In the Sweet Bye and Bye. 23
Communication With Family
Homer's nearest relatives were his parents James Pepper Anderson (7/20/1868 – 2/22/1953) and Lorena L. Anderson (10/29/1867 – 9/5/1962) of Pontotoc, Mississippi. Homer had no siblings. His parents requested that his body be re-interred to his hometown. They chose not to have him re-interred in a national cemetery. Communication between the War Department and the family on the re-interment follows:
May 25, 1920
James P. Anderson, Homer's father, sent a telegram to the Office of the Quartermaster General of the Army, Graves Registration Service, Washington, D.C., requesting to have the remains of Pvt. Roland H. Anderson shipped to Pontotoc, Mississippi on Gulf Mobile and Northern Railroad (G.M. & N.R.R).
June 8, 1920
Graves Registration Service (Form No.120) acknowledged the request by Mr. John P. Anderson to have the body of his son shipped home on G.M.& N.RR.
Sept. 7, 1920
Graves Registration Service (G.R.S.) Form No. 114 – Report of Disinterment, Preparation and Shipment of Body - of Bourges, Cher Station. Disinterred date 9/7/20, by A.F. McCabe. An identification disc was found on the grave marker but not the body, signed Anthony H. Manley, Junior Technical Assistant. No discrepancies were found.
It was noted that all other bodies so far identified in this row were found under proper crosses. The body condition was described as badly decomposed, and the nature of burial was described as "in uniform - in pine box." The body was prepared and placed in the casket, the casket sealed, boxed and marked #11712 by A.F. McCabe on 9/7/20. Clarence W. Dodge, Capt M.C., G.R.S. Inspector, certified that all the foregoing operations were conducted and accomplished under his immediate supervision and that the report was correct.
Sept. 13, 1920
Homer's body was shipped from the St. Lazare Cemetery to the Point of Concentration - St. Nazaire, France on September 13, 1920 for shipment on the U.S.A.T. POCAHONTAS. Mr. H.H. Thompson, a representative of the Graves Registration Service, was the ship officer who signed for the box.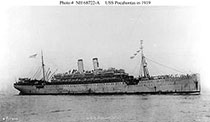 October 1, 1920
Homer was shipped to Hoboken, N.J.
October 18, 1920
G.R.S. Representative Lieut. H.M. Black, C.A.C. received Homer in Hoboken, N.J.
October 23, 1920
War Department Telegram directed to Mr. James P. Anderson read, "Body of Pvt. Roland H. Anderson will arrive New York City about Oct. twenty-fifth and will be shipped to YOU at Government expense, but not until you telegraph at Government expense, confirming above shipping instructions to - GRAVES REGISTRATION SERVICE (G.R.S.), 461 – 8th Ave., New York City. Received (Homer) October 18, 1920. Shipped to destination (date) 11/1/20 (Pontotoc) B-L or Express Order No. – H.M. Black, Lieut., C.A.C.
Oct. 26, 1920
James P. Anderson sent a message to Signal Corps, United States Army asking to be advised when the body leaves and probable time of arrival.
Oct. 26, 1920
To Mr. James P. Anderson, Pontotoc, Mississippi, "Dear Sir: Receipt of your telegram of October 26th is hereby acknowledged and your wishes will be complied with. We will ship the body of Private Roland H. Anderson to you at the earliest practicable date. You will be notified by telegraph date of departure of the body from this Port and probable date and hour of arrival at destination. Very respectfully yours, Loyis H. Buisch, Captain Infantry, Officer in Charge"
November 1, 1920
Special Orders No. 127, Headquarters Army Transport Service Port of Embarkation, Hoboken, New Jersey. 32. Under the provisions of paragraph 87, Army Regulations, Mr. J.D. O'Connell, Civilian Employee, Quartermaster Corps, as Escort, will proceed from Hoboken, N.J. to Louisville, Kentucky, accompanying the remains of the following deceased soldiers en-route to destinations set opposite their respective names: (including) Pvt. Roland H. Anderson, 1592049, Co. A.C.R.O. BN., ASC, Pontotoc, Miss.
Upon arrival at Louisville, KY, Mr. O'Connell will deliver the foregoing remains to the Depot Officer, that city, for distribution to their respective homes and upon competition of this duty will return to Hoboken, N.J. and report to the Officer in Charge, Freight & Passenger Branch.
The Transportation Service will furnish transportation covering journey of escort from Hoboken, N.J., to Louisville, Ky., and return; and covering shipment of remains from Hoboken, N.J., to destination set after each name. Routing will be Louisville to Jackson (via Illinois Central (IC) and from Jackson to Pontotoc via the Gulf Mobile & Nashville (G.M.&N).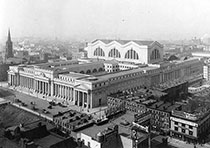 November 1, 1920
Homer shipped home (Pontotoc, MS) from Hoboken, N.J.
November 3, 1920
Quartermaster Corps (Q.M. C.) wrote to James P. Anderson, "rail three ten remains Private Roland H. Anderson leave New York (Penn Station #501) November fourth ten thirty am arrive Pontotoc, Mississippi via GM&N RR. Bradley"
November 6, 1920
Roland Homer Anderson arrived in Pontotoc, Mississippi and is received by father, James P. Anderson, attended to and signed by Pvt. John Engle (6447376), November 6, 192024
Burial in Pontotoc
March 11, 1920

The Last Services Rendered

Accompanied by a military escort, the body of Homer Anderson arrived at this place, as an official message had promised, last Saturday evening (November 6, 1920), and was met by a number of comrades and relatives, and by his sorrowing parents. Conveyed to their residence on Oxford Street, a throng of friends called from that time until the funeral the following day.

At 2 o'clock on Sunday afternoon (November 7, 1920) the casket was borne to the Baptist church, of which the young soldier had been a member. The commodious auditorium was completed filled, many coming from a distance, and a very impressive and touching service was conducted by the pastor, Rev. James L. Robinson, who was himself in the army as chaplain, through the war.

A selected choir, with Miss Minnie Brown as organ accompanist, furnished an appropriate group of songs, softly sung. The casket was draped in a beautiful large American flag which will be treasured by the devoted parents through life. The pallbearers, chosen from his comrades in war, were Carl E. Abernathy, Joe Hunter Anderson, Richard Carr, James L. Cockrum, Robert H. DeKay, Charlie Grisham, Joe M. McCutcheon and LeRoy Hill.

A long, long procession of automobiles and many pedestrians followed the hearse to the "Silent City," where the grave had been lined and made beautiful as a tribute from the American Red Cross. As Mrs. W.L. Wilson, the local chairman, was absent, here co-laborer, Miss Sue Souter and Mrs. R.P. Wilson did the work unassisted and alone.

The walls were snow-white with scattered greenery about, while around the edges were gracefully arranged the national colors, over which fell a soft, white gossamer drapery. This last service was a labor of kindly regard for the brave young soldier who would rest there.

Several songs were chanted as the grave was being filled and when it had been mounded into shape, many of autumn's most beautiful flowers were laid there, such a wealth of designs as has seldom been seen at a burial in Pontotoc.

Roland Homer Anderson, only child of Mrs. And Mrs. James P. Anderson, was born February 17, 1891, near Toccopola where his earliest years were spent and where he first attended school, a favorite little student.

On November 15, 1907, the family moved to this place, which has since been their home and where Homer grew to manhood. After a few terms at the Pontotoc High School; he accepted clerkships until he went to Oxford to learn the tailor's trade.

Enlisting, he was among the number who went in the first assignment from this place to serve his country in the World War, leaving September 19, 1917. He was assigned to duty in Co. A, Central Records Office, A.F.C., where he remained until attacked by illness.

He was taken sick February 5, 1919, and carried to a government hospital, suffering from Spanish Influenza that terminated in pneumonia. Death claimed him February 13, after a ten-day struggle for life, and he was laid away in far-off France, in a cemetery at Bourges, where his grave had been kindly cared for by strangers, until now they rest in the cemetery of his old home town.25
Summary
Roland Homer Anderson was one of an estimated 43,000 servicemen mobilized for WW1 who died of influenza. It's ironic that Homer's fellow soldiers with whom he worked compiling information, dispatching telegrams and making Casualty Lists, would now include Homer among those whose mother and father would receive one of those telegrams.
We began this search with two postcards purchased at a flea market in Memphis, Tennessee, one of Homer and one his grave in France. We were also fortunate that my wife's family lives north of Houlka, Mississippi, not far from Pontotoc, and knew the area. I am also fortunate to have a friend (Ruthie) who can speak French and visited Homer's former grave in Bourges with the caretaker of the cemetery. Visiting Bourges is my next goal towards finishing this story on Private Roland Homer Anderson.
Do you know more about this person? Click here to email the author.
U.S. Army Registration Card, Roland Homer Anderson
http://virus.standord.edu/uda/ The Influenza Pandemic of 1918
http://en.wikipedia.org/wiki/Spanish_flu 1918 flu pandemic
http://virus.standord.edu/uda/ The Influenza Pandemic of 1918
http://en.wikipedia.org/wiki/Spanish_flu 1918 flu pandemic
The SENTINEL, Pontotoc, Mississippi, Thursday, May 24, 1917, Mississippi Department of Archives and History (MDAH), Jackson, MS.
The SENTINEL, Pontotoc, Mississippi, Thursday, September 20, 1917, MDAH, Jackson, MS.
The SENTINEL, Pontotoc, Mississippi, Thursday, October 18, 1917, MDAH, Jackson, MS.
Centennial History of ARKANSAS, Vo. 1, Dallas T. Herndon, Editor, 1922, pp. 722-23
87th Division (NA) History
Order of Battle of the United States Land Forces in the World War (1917-1919), Vol. 3, U.S. Government Printing Office, 1949, p. 843
Centennial History of ARKANSAS, Vo. 1, Dallas T. Herndon, Editor, 1922, p. 722
The Battle of Bourges 1918-19, American Expeditionary Forces, Francis Sinclair, Brooklyn, N.Y., p. 3-4
The Battle of Bourges 1918-19, American Expeditionary Forces, Francis Sinclair, Brooklyn, N.Y., p. 26
The Battle of Bourges 1918-19, American Expeditionary Forces, Francis Sinclair, Brooklyn, N.Y., p. 104-106
The Battle of Bourges 1918-19, American Expeditionary Forces, Francis Sinclair, Brooklyn, N.Y., p. 130
The Battle of Bourges 1918-19, American Expeditionary Forces, Francis Sinclair, Brooklyn, N.Y., p. 104-106
THE CRO (Vol. 1 No. 11). Caserne Carnot, Bourges (Cher) France, Saturday, February 15, 1919, p. 3
Grave Location Blank, Graves Registration Service, National Archives, Washington, D.C.
The Battle of Bourges 1918-19, American Expeditionary Forces, Francis Sinclair, Brooklyn, N.Y., p. 130
The SENTINEL, Pontotoc, Mississippi, Thursday, March 6, 1917, MDAH, Jackson, MS.
The SENTINEL, Pontotoc, Mississippi, Thursday, March 27, 1919, MDAH, Jackson, MS.
The SENTINEL, Pontotoc, Mississippi, Thursday, April 10, 1919, MDAH, Jackson, MS.
Disposition of Remains, Report of Disinterment, Preparation and Shipment of Body and Correspondence with Family, Graves Registration Service, National Archives, Washington, D.C., May 25 – November 6, 1920
The SENTINEL, Pontotoc, Mississippi, Thursday, November 11, 1920, MDAH, Jackson, MS.
Roland Homer Anderson, Co. A, Central Records Office (C.R.O.) Battalion (BN.) American Service Corps (ASC), original postcard
Pontotoc, MS Depot (circa 1917), Pontotoc, MS
Camp Pike, Arkansas, Centennial History of ARKANSAS, Vo. 1, Dallas T. Herndon, Editor, 1922
Bourges (Cher) France (Pre-War)
C.R.O. Insignia, Personal photograph
Caserne Carnot, Bourges (Cher) France, National Archives – Still Pictures Division, Washington, D.C.
Personnel of Camp Hospital 68, The Battle of Bourges 1918-19, American Expeditionary Forces, Francis Sinclair, Brooklyn, N.Y., p. 105
Red Cross at Camp Hospital 68, The Battle of Bourges 1918-19, American Expeditionary Forces, Francis Sinclair, Brooklyn, N.Y., p.107
Officers of Camp Hospital 68, The Battle of Bourges 1918-19, American Expeditionary Forces, Francis Sinclair, Brooklyn, N.Y., p. 105
Truck Co. of Camp Hospital 68, The Battle of Bourges 1918-19, American Expeditionary Forces, Francis Sinclair, Brooklyn, N.Y., p. 106
Two American Red Cross Nurses, http://en.wikipedia.org/wiki/Spanish_flu, 4.30.2009
Cemetery Marker – St. Lazaire Cemetery, Bourges (Cher) France, original postcard
Memorial Day at St. Lazare Cemetery, Bourges, May 30, 1919, The Battle of Bourges 1918-19, American Expeditionary Forces, Francis Sinclair, Brooklyn, N.Y., p. 89
Cemetery marker – Pontotoc, MS, personal photograph